Hi guys, its been a while since I've added a post about my sloth design, and I've added it to so many new things! My sloths design is by far my most popular, as sloths are so easy to love with their lazy smiles and their chill attitude. If you know a sloth lover, or are a sloth lover yourself, you may be interested in this collection of sloth home decor items! :D Some of these items are decorated in a seamless sloth pattern, and some with sloth related jokes and puns of course. :) They are sure to make you smile, too.
Here are my picks for sloth home decor!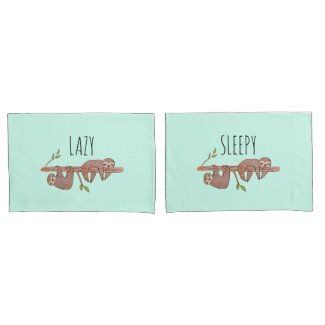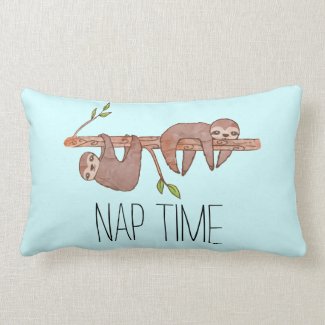 Nap Time Sleepy Lazy Sloth Drawing Pillow
Channel your inner sloth with this Nap Time pillow. Accompanied
by a cute drawing of two sloths hanging on a tree branch. :)
To match the pillows is a plush comforter from Society6 with my sloth pattern in a large print!
Baby Sloths hanging on Tree Pattern Pet Bed
I also added my sloth pattern to dog beds! That way you can share
your love of sloths with your pet. The background colour can be changed
to any colour imaginable, to match your other home decor.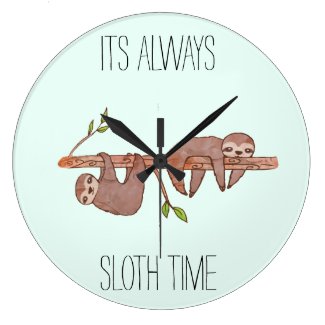 Its Always Sloth Time Lazy Sloth Clock
Yes.... Yes, I did this. I had to! This clock features a drawing of a sloth
and the text "It's always sloth time". Time does not matter, when you are a sloth.
Cute Baby Sloths Hanging on Treebranch Pattern Shower Curtain
This shower curtain is made cute with my sloth pattern! The smiling, sleepy sloth art
will add an adorable touch to your bathroom.
And to match the shower curtain, a sloth pattern hand towel.
Since its getting chillier out, you may be interested in this seriously soft sloth pattern
throw blanket for lazy weekends spent indoors.
What do you think of this collection of sloth home decor items? Let me know in the comments below!
Hope everyone has a fantastic weekend :)
Tanya