I was so excited to hear last week that Zazzle has introduced
Apple Watch Bands
to their product lineup! They actually added quite a few new products last week in anticipation for the Holiday Season - including puzzles, notebooks and iPhone 8 & X cases... though the Apple Watch bands are one of the ones I am most excited about. There aren't many places that offer customized Apple Watch bands, so Apple Watch owners will be pretty happy about these.
Not only do these look great, they are also durable and made with quality leather and have a traditional metal watch buckle. These are hand crafted by the maker In a Flash in Charlottesville, Virginia USA. In a Flash is known for providing long lasting printed and UV-cured custom designed on various items such as iPad smart covers, cases, wearables & more, so its only natural that they added Apple Watch bands to their lineup.
As for the printing, a sublimation printing technique is used for vibrant colours that will last, and the surface is sealed with a UV protector to keep the watch band from fading or becoming discoloured. Sublimation is a great printing technique, using heat sensitive inks that turn into gas under the influence of heat. This allows the ink to become part of the structure of the material, so the designs on the leather won't fade or crack, even after using the band for a long time. So you can be sure you are getting a quality print job :)
The bands come in two sizes for the 38mm and 42mm Apple Watch. The 38mm band is recommended for people with a 140mm - 190mm wrist size, and the 42mm one is recommended for 145mm - 220mm wrist sizes. These bands are compatible with any generation of Apple Watch.You can order a custom Apple Watch band for the regular price of $55.76 in my shop, which is comparable to the price in the Apple Store, except you get to choose the colour, design, and even add your own initial or name if you want.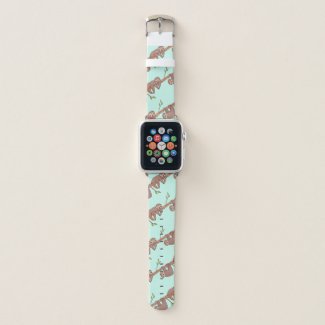 Baby Sloths hanging on Tree Pattern Apple Watch Band
by
TanyaDraws
Do you own an Apple Watch? What do you think of these new custom Apple Watch bands? Let me know in the comments below!
Happy Wednesday,
Tanya :)