I've been wanting to draw animals lately... and not all animals, just a specifically odd collection that contains ferrets, parrots, racoons, lemurs and other random creatures. :P I've now crossed Red Panda off my list with this design!
I really enjoyed creating this pattern :) Sometimes its just great to go back to the sketchbook and draw something completely random. Something that you don't see every day, can look up pictures & read about. This was red pandas for me. I had always seen them in the Zoo and thought they were the cutest animals there. I was more than happy to dive into the world of the red panda once again and look at cute pictures of red pandas lazing around in their natural habitats for hours. I drew my red pandas in different poses (even included a cute sleeping one with z symbols in there!) and gave them a simplistic look that is almost cartoonish. To complete my pattern, I added in drawings of bamboo leaves, because those are a red panda dietary staple! The green leaves really went well with the reddish brown shades of the pandas fur.
On products that are most likely to be personalized gifts, I have added a monogram frame so you can customize it with your initial (or the initial of a red panda lover that these will be gifts for!!). You can type whatever you want into the frame, choose your own font and customize the background colour to be any colour imaginable.
Here are my top favourite designs from the collection! :)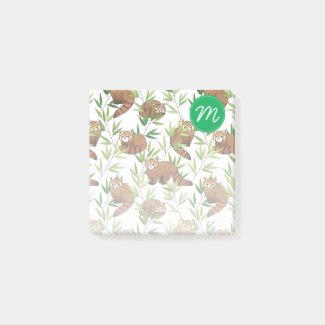 These post it notes are so cute for any red panda lover. The top right corner has a green monogram
where you can add your initial. I added a white fade over the pattern to make notes more legible.
These would make a great gift for students to use at school, or at their desk at home.
Red Panda & Bamboo Leaves Pattern & Monogram Post-it Notes
by
TanyaDraws
This red panda pencil case is another gift that would be perfect for back to school! ;) The monogram in this one also
features a template with matching font where you can add a full name. I just love the deep green colour
on this pattern! You can always customize it to change the background to white, light green, or whatever you
want. This design is printed on both sides.
Red Panda & Bamboo Leaves Pattern & Monogram Pencil Case
by
TanyaDraws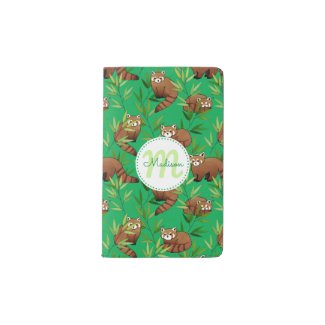 A moleskine notebook, made unique with my red panda designs and a personalized monogram & name frame.
These moleskine notebooks are great for anyone who loves to write notes on the go. These are pocket sized,
and have lined paper on the inside.
Red Panda & Bamboo Leaves Pattern & Monogram Pocket Moleskine Notebook
by
TanyaDraws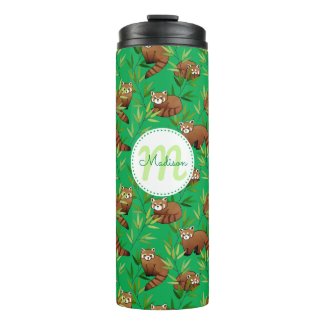 These tumblers are one of my favourite things to design! They always look so good. These tumblers can be
used to keep your drinks hot or cold. Featuring a stainless steel body and a standard size that fits into
most cup holders. Great to bring to yoga class, around campus, to the library (flip top prevents spills!!). Plus
it is so cute with the red panda design and monogram.
Red Panda & Bamboo Leaves Pattern & Monogram Thermal Tumbler
by
TanyaDraws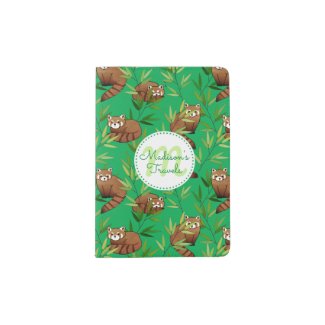 This design may be new, but it has already started selling! :) I sold this red panda passport holder this month!
It was personalized and is being sent to the Netherlands! Thank you to my customer for purchasing,
I really hope you enjoy it!
Red Panda & Bamboo Leaves Pattern & Monogram Passport Holder
by
TanyaDraws
See the whole collection here:
See Red Panda Designs without Monogram: