Yes... this post is dedicated to the colour pink! And in the spirit of Wednesday, I thought the above Mean Girls gif was extra appropriate. ;) This past weekend, I've come up with a collection of pretty pink gift ideas that won't disappoint! These gifts are designed by me and some can be further personalized to suit the recipient. This is a collection of a variety of patterns, subjects and products that all have one thing in common - they are pretty and pink! :)
1. Monogram Thermal Tumbler

This tumbler features a repeating pattern of gold pineapples on top of a blush pink background - a classy and pretty combination! This tumbler can be used for hot or cold drinks and is ideal to bring to fitness classes, work, or for long walks. The monogram on the front makes it a really unique gift - personalize it with your recipients initial! Available at my Zazzle shop.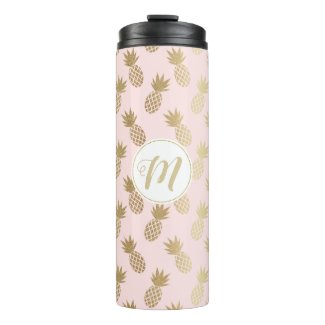 Gold Pineapple Pattern & Monogram Thermal Tumbler
2. Pink & Gold Geometric Studio Pouch
The pink and gold geometric design on these studio pouches from Society6 is modern with a bit of elegance. This pouch makes a great gift for its versatility - use it for art supplies, makeup, a travel toiletry bag... it can be used to fill a variety of needs. Comes in a small, medium, and large size.
3. Pineapple Flask with Monogram
A great gift for the bride-to-be at her bachelorette party or even as a personalized gift for the bridesmaids! This blush and gold design is pretty and simple, and the monogram can be personalized by you. It is a gift that is bound to be attached to some great stories & memories! Available at my Zazzle shop.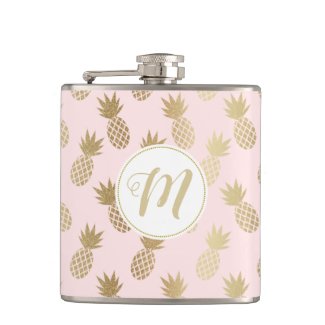 Gold Pineapple Pattern Flask
4. Personalized Passport Holder & Luggage Tag Set
For the traveller in your life: a beautiful passport holder & luggage tag set! Both these items are decorated with a rose coloured monogram, and a pattern of abstract flowers of different shades of pink, blush, and rose gold to make the perfect combination. Available at my Zazzle shop.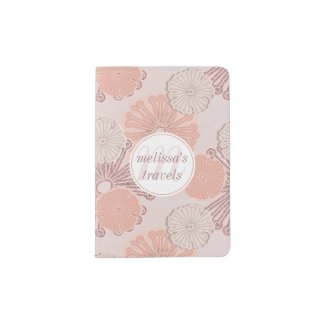 Rose Gold Flower Pattern and Monogram Passport Holder
5. Soft Microfiber Rose Gold Scarf
The intricate details and the dull rose gold colour gives this a subtle beauty that makes this scarf a great addition to any outfit, and a beautiful gift. These are sheer, soft and flowy and can be worn in a variety of ways. Available at my Redbubble shop.
6. Clear Rose Gold Heart iPhone 7/8 Case
A cute and simple design of rose gold hearts to add a bit of glam to any iPhone! This case is clear, so the look of the iPhone shines through underneath the design. Personalize it for your recipient by choosing the background colour, or by adding a name or initial!
Pink Rose Gold Coloured Metallic Hearts Pattern iPhone 8/7 Case
7. Pink and Blue Retro Chevron with Monogram USB Drive
A USB drive seems like a weird addition to this list, but these actually make a wonderful personalized gift! You can fill it with photo memories for your recipient (or personal jokes, your favourite songs - anything you would like to share!), and they can keep this personalized USB stick with them wherever they go. It makes a really thoughtful gift, and is perfect for those who like to give gifts with a bit of a homemade touch! Available at my Zazzle shop.
Cherry and Blue Faded Chevron Pattern USB Flash Drive
8. Rose Gold Tangles Round Floor Pillow
A beautiful housewarming gift for lovers of comfort and pink decor. The rose gold design is filled with beautiful pink shades that can accentuate a room. These comfy floor pillows not only look great, they are super plush and hold their shape through multiple uses. Available at my Society6 shop.
9. Blush pink Confetti Hardcover Notebook
A gift that is ideal for the sketch artist or the writer! These beautiful hardbound notebooks can be filled with your choice of lined, graph, or blank paper. It is made pretty & unique with a beautiful blush coloured cover with little white confetti circles. Available at my RedBubble shop.
10. Pineapple and Monogram Mug
Decorated with my gold and blush pineapple design, a mug with a monogram makes a classic gift with a personalized touch! It is a gift that will make someones morning coffee or tea time much more special. Available at my Zazzle shop.
That sums up my list for today. There are many more gift ideas available for each of the designs featured.. stop by my shop for some more great gift ideas.
Thanks for reading, hope you enjoyed this post!
Happy Wednesday,
- Tanya