Zazzle is constantly adding new and exciting products to their lineup of personalized gifts. This year we have seen especially creative ones, one of my favourites being air fresheners! Its such a random thing, but such a good idea - people use air fresheners in their cars, rooms, gym bags & lockers, so why not be able to customize them with a name, initial or expression too?
Here is a little background on the product. They are made by Zazzle Maker Instafreshener, a company created by a husband and wife team, who merged their problem solving & creativity together to come up with these fabulous, custom printed, long lasting air fresheners. Since they joined Zazzle, they have sold quite an amount of air fresheners, and there are 70 reviews on them, averaging 4.5/5 stars! People love them. To see more about them, visit their
website here!
The air fresheners aren't only customizable in design, you can also change the shape and scent. The five scents you can choose from are:
New Car
-
Kick it up a notch and enjoy the refreshing smells of a new car. Let's go on a road trip!
Cucumber & Fresh Mint
-
A light, refreshing blend of cool cucumber and fresh spearmint. Cool as a cucumber.
Fast Lane "Black Ice"
-
Get your motor running and be ready for a blast of refreshing cool smells. Invigorating and exhilarating at the same time.
Emerald Sea
-
This fruity floral blend is a mix of lemon and lime with layers of mango, peach and peony. Sweet and delious with no extra calories.
Island Breeze
-
Lily of the Valley, Water Lotus, Rosewater, Star Jasmine, Violet, Musk, and Sea Moss. The island life is nice and breezy.
You can make your air freshener square, heart shaped, portrait and landscape rectangle, and printing is double sided.
Here are some of my premade designs, that feature a name & initial! They are customizable on both sides of the air freshener, and make great gifts for someones first car, party gift bags, stocking stuffers at christmas time, gift packages & employee presents... the possibilities are endless.
Lavender Geometric Star Maze Pattern
by
TanyaDraws
Check out Optical illusion Air Fresheners online at
zazzle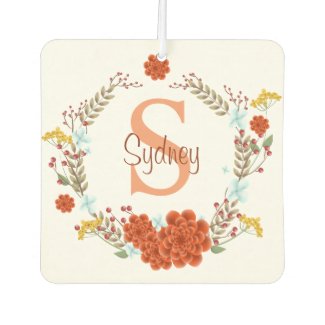 Illustrated Flower & Laurel Wreath
by
TanyaDraws
View another
Air Freshener
April Birth Flower - Watercolour Daisy Pattern
by
TanyaDraws
See here for
Air Fresheners
Reverse Ladybugs & Leaves on Brown Paper Pattern
by
TanyaDraws
View other White ladybug Air Fresheners at
Zazzle.com