So a few days ago I got an email from Zazzle's Liz saying that my Tropical Summertime Watercolour Pineapple Pattern Fabric was used in a promotion. They let certain bloggers choose from the wide selection of fabrics they have available in order to write a promotional blog post about the new fabrics from zazzle, and this fabric was one of the chosen. So I hopped on over to the blog where my pineapple print was featured, and I was so happy with what I saw!
The blogger,
Lladybird
, is an extremely talented seamstress who has a wide portfolio of handmade clothes. She chose my watercolour pineapple fabric and turned it into an amazingly cute dress!
This dress is not only the cutest but it HAS POCKETS! I love a dress with pockets.
Click the dress picture to head on over to Lladybirds blog and see her full review of my pineapple pattern on Zazzle's Pima Cotton Fabric, and see all the little details of her dress. She takes so many pictures, and explains in detail about the sewing pattern she used as well as the fabric itself! It is amazing how much work and details went into this dress, from the pockets to the adorable cutout back. I am really glad she chose to create such a cute dress out of my fabric.
She is also hosting a contest on her blog right now where you can win a $75 zazzle gift certificate, so check that out as well!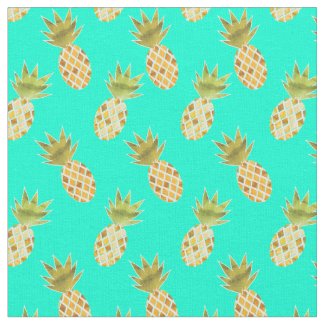 Here is the fabric itself. As you can see, I chose a more vibrant colour background to display than the one she chose to print. You can change the background to any colour, which is one of the best things about this design! The pineapples have a subtle, controlled colour palette, so you can really go wild with the background colour.
Tropical Summertime Watercolor Pineapple Pattern Fabric
by
TanyaDraws
See more
Retro Fabrics
Since Lladybird's blog post, my Tropical Summertime Watercolour Pineapple Pattern Fabric has received 200 + views! Thats like, more views than my top three viewed items combined. :P
Has anyone else created something with a Zazzle fabric before? I would love to see! Its fantastic seeing the designs come to life, and as an artist its also wonderful to see someone enjoying your work. :)
Thanks to all my customers so far across my POD shops who have purchased my designs! I appreciate you all, and am so happy you enjoy my artwork!