A little late, seeing as I actually created this pattern weeks ago, but I finally updated my zazzle shop with it! It was time consuming, but I really like how it looks!
So April's birth month flower is the Daisy! The daisy is a flower that conveys innocence, loyal love and purity. I love daisies for their simplicity and their design. I opted for simple white daisies with an orange centre, as well as yellow daisies. These daisies were created digitally as vectors in illustrator, and then filled with a hand painted watercolour texture! I then arranged them into a timeless daisy pattern that has a clear background, so you can pick your own background colour. Try black for a pattern that looks really iconic, sky blue for a cute girly pattern, and white for a subtle print. It also looks nice in a dark pink if you want to go really girly. :) I've put this design on hundreds of zazzle products. I selected the black background for most of the products I made, because it is my personal favourite. It can be changed though. To see the full collection, click my Watercolour Daisies Banner!
Daisy pattern dry erase board! I added a flower shaped scalloped border to create a nice writing space. This would be a great addition to a girls room or a student house kitchen!
April Birth Flower - Watercolour Daisy Pattern Dry-Erase Whiteboard
by
TanyaDraws
Shop for another
Dry Erase Board
online at Zazzle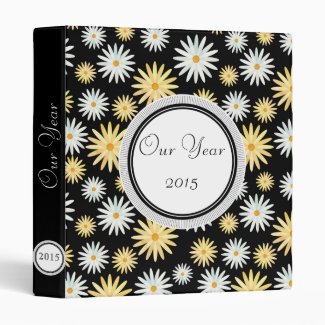 This is a binder that would be great as a photo album for special events. You can change the front and spine text to say whatever you want. There is a small circle on the corner of the spine which would make sorting your albums really easy.
April Birth Flower - Watercolour Daisy Pattern 3 Ring Binder
by
TanyaDraws
Create
custom binders
online.
I love Zazzles luggage tags! This has a personalized monogram on it framed with a lovely scalloped frame.
April Birth Flower - Watercolour Daisy Pattern Travel Bag Tags
by
TanyaDraws
View more Yellow daisies Luggage Tags at
zazzle.com
Monogrammed iphone 6 case! The monogram and frame can be personalized or removed. This case looks great with just the pattern too!
April Birth Flower - Watercolour Daisy Pattern Barely There iPhone 6 Case
by
TanyaDraws
Look at other Yellow daisies Casemate Cases at
zazzle.com
This iPad mini sleeve is decorated with a personalized monogram on a yellow ribbon. I love it with black, but the lining, trim and background can all be changed!
April Birth Flower - Watercolour Daisy Pattern iPad Mini Sleeves
by
TanyaDraws
Browse more
Yellow daisies iPad Sleeves