Yesterday while binge watching That 70s Show (the whole thing is on Canadian netflix now.. super exciting!) I found myself heavily influenced by those 70s textile patterns & wallpapers, and decided to make a floral tile of my own. I went with the simplistic, geometric florals rather than my hand drawn style because I wanted to focus on symmetry. I gave this pattern my favourite technique though... watercolour textures in digital vectors. :) The pale pinks and purple shades work really well together, adding to the simplicity of this pattern with a simple colour palette.
It also reminds me of easter, and spring.
Spring, which still isn't here. Did I mention it snowed yesterday?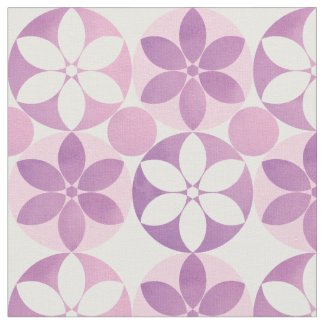 Here is my new pattern in Zazzle fabric! The flowers are alternated purple watercolour and white. There are smaller circles to add a break in this traditional design.
Laptop skin from my Nuvango gallery, available in mac and windows selections.
Pale purple floral wooden USB stick! I just love these. These personalized USB keys are a great way for wedding photography companies to share their digital photo packages with the bride and groom. Easily change the monogram on this USB key to whatever you like!