I was browsing the brand new fabrics section on zazzle when I noticed something that is exciting (well it excited me anyways!). Two of my fabrics are featured on the main fabrics page in two different spots. The first one I noticed was in the
Editors Fabric Picks
, where my snails and swirls fabric was featured alongside 99 other gorgeous fabrics! It really made me happy to see that. And then as I continued to browse the new fabric section, I noticed that my peacock blue modern watercolour leaves fabric is featured as the thumbnail for the themed fabric grouping, "modern"! See all the categories
here
.
This really made my week better, thanks for picking my Snails in Editors Picks & for featuring my leaves fabric Zazzle! :)
Here are the two fabrics that can be very easily seen in the fabrics section! ;)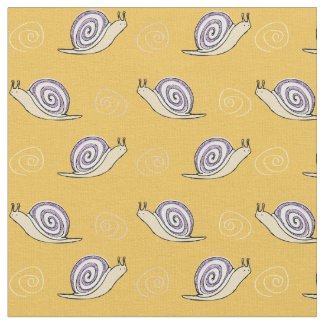 My snails pattern, great for kids who are in a bug loving stage. The background colour is customizable, I picked the mustard yellow because I thought it looked great with the cream and lavender snails!
Illustrated Snail and Swirls Pattern Fabric
by
TanyaDraws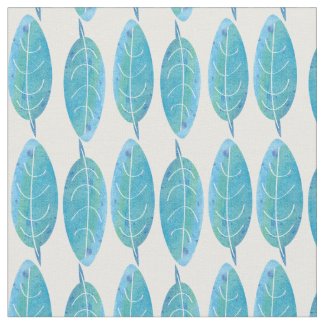 My modern watercolour leaf design, featured in the "modern" section of fabrics! This is the same pattern that I used in my pattern tutorial. It seems someone at Zazzle thought it was nice, too! :)
Peacock blue modern watercolor leaf design fabric
by
TanyaDraws
And then I noticed something that made me happy, and then gradually sad. :( In my shops info page, I noticed that my tropical watercolour pineapple fabric is listed under my recently sold items! But then when I checked my account history, it seems that there is no history of me actually selling this item. I'm thinking it is just a glitch, or maybe someone got a free swatch of fabric. At any rate, it has been two days with it not showing up in my actual royalty history, so I'm assuming it didn't really sell. On the bright side, because this fabric "sold", it is now showing up higher in the marketplace, which means more people are looking at it anyways. I'm keeping my fingers crossed for it to actually sell though!
Here is the mysterious sold but unsold fabric! I hope it actually does sell. It is a nice tropical pattern so I think it will get more recognition when it is no longer winter. :)
Tropical Summertime Watercolor Pineapple Pattern Fabric
by
TanyaDraws
On the topic of fabrics, I came across a blog post on zazzle which is great little craft and decorating project that is awesome for people who love fabrics, but don't actually possess the skills to properly use fabrics. I know this is one I am going to try, because I am absolutely terrifyingly BAD at sewing or anything related to sewing, but this one looks nice and is one I could actually do. Click the picture below to get to the tutorial on making DIY Fabric Embroidery Hoop Mantles!
To make this an extra special piece of artwork for your wall, you can paint the embroidery hoop to match the colours on the fabric. Definitely easy, and definitely not beyond my very limited fabric skills! ;)