Hello everyone, hope you had a good weekend filled with joy! I worked all weekend at a big cheerleading competition, it was work but it was an enjoyable weekend anyways. Some nice things happened, too! I found out this weekend that one of the fabrics I entered into Zazzle's Sew Good fabric contest was a category winner! My Spring Watercolour Floral Pattern was one of the winners for the Patterns category. One of the prizes is a feature in zazzles email blast, as well as a fat quarter of my winning design, which I am excited to get! I want to make an iPad case out of it. Not only that, but some of my designs were featured in some lovely Zazzlers blogs and websites! Its nice to get a little recognition for my artwork every now and again, and I appreciate it very much when it happens. :)
Here is my "Sew Good" entry that won in the "pattern" section: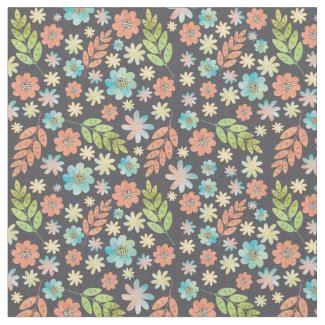 Spring themed watercolour floral pattern! This cute pattern features a customizable background. It is a versatile pattern that really changes with each colour you pick. Try out some colours and see for yourself!
Spring Floral Watercolor Pattern Fabric
by
TanyaDraws
And here is one of my St. Patricks designs that was featured in
Bohemian Bound's
St. Patrick's Day post. They picked 25 products to feature in a promotional blog post for St. Patricks day, and they do promotional posts for every holiday!
St. Patricks day nail art, filled with shamrocks and luck. This is a great way to show your love of all things Irish in a really subtle way. ;)
St Patricks Day Green Watercolour Shamrock Pattern Minx® Nail Art
by
TanyaDraws
And my crazy inked forest design was featured over at
The Daily Rainbow blog
, for the colour "black" last week! This blog features beautiful products in selected colour every day.
I always love doodling, and this is one of my most intense doodles ever! I doodled leaves in black marker and pen, creating a really interesting to look at forest design.
Crazy Inked Forest design Mug
by
TanyaDraws
Thanks to those who appreciate my artwork, I appreciate you too!
In other news I have continued with my daily draw sketches, follow my
Tumblr Blog
to see what I have been working on before it makes its way to zazzle! I'm an art machine. >:)
-Tanya